A healthy mind in a healthy body. That's what I promote as the "Music & Health" contact person at ArtEZ University of the Arts Arnhem.
I have the opinion that if you promote certain ideas you have to act accordingly.
Therefore, I understand the public outrage if a policeman steals magnolias, a politician hijacks freedom (but is the bearer of freedom according to the name of his political party/ego trip), and an athlete is caught using forbidden resources.
As an education teacher I urge my students in Zwolle to be on time. If they're ten minutes late they cannot enter my classroom. So when all the roads were icy in December, I had to make sure I wasn't late myself: i.e. I had to wake up at 5 o'clock to be on time for the first lesson. Hm..
It's not always easy to stay healthy as a musician: I have the late-at-home-and-want-to-drink-a-wine-or-two-and-eat-some-cheese disorder. This could be compensated with let's-go-to-the-gym-and-have-some-fun moments. Unfortunately, these moments are rare (and not my idea of fun). I do play tennis every week but I'm not sure if you would call that healthy. I am unhealthily fanatic, use a peculiar technique and the second half of my game is prettified with beer and "bitterbals".
So I've decided that I will take the bike more often: to ArtEZ, to some rehearsals of orchestra the Ereprijs, to friends, to the construction site of my new house, to the school of my kids, to Albert Heijn and last but not least to my English lessons. In Nijmegen.
Last Monday, after my education class in Arnhem, I cycled to Nijmegen. I had to take my wife's bike because mine was broken. The distance, crappy bike, crosswind and cloudy weather were daunting me, but I'm not a wimp.
The bike fast track from Arnhem to Nijmegen is called the RijnWaalpad. It meanders through a landscape with the Arnhem-Nijmegen motorway on one side and the, partly cultivated, wetlands on the other. It took me 90 minutes to get to the university. 90 minutes' free time: no computer, colleagues, students, kids, piano, but with a lot to look at. It turned out to be a revelation. I perceived the beauty of Holland in all its facets.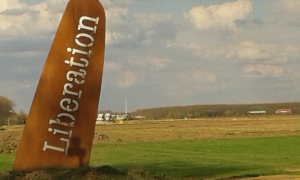 Birds were everywhere: a nestling mute swan (5 big green/white eggs) and moorhen (4 black mottled green eggs), a common shelduck, sparrow, tufted duck, garganey, herring gull, black-tailed godwit, pied avocet, buzzard, cormorant, starling, grey heron and even a partridge!
The amazing clouds went from black to white and painted the sky like Jan Van Goyen.
Beautiful ugliness was present in the industrial areas near Nijmegen, in the new houses at Lent, in the splashed toads waiting for fermentation.
The flat land, the rivers, tiled front yards, a memorial statue in the middle of the route and a perfectly maintained bicycle path: typically Dutch (next to bitterballen, stroopwafels and –a long time ago–tolerance).
It felt like a combination of a small vacation and a work out in the middle of a working day.
When I was back in Oosterbeek only my knees protested, probably longing for a better bike.
As icing on the cake I drank a beer, a near-beer.